Rural Houses for Full Rent and Apartments with charming Gardens
Found 48 accommodations
Rural Houses for Full Rent and Charming Garden Apartments! Are you looking for Full Rental Rural Houses and Apartments with unique Gardens? At Rusticae we have selected only the best Rural Houses for Full Rent and Charming Apartments with Gardens for you
What kind of accommodation are you looking for?
ENJOY AT
UNIQUE PROPERTIES
SELECTED BY
RUSTICAE
BOUTIQUE HOTELS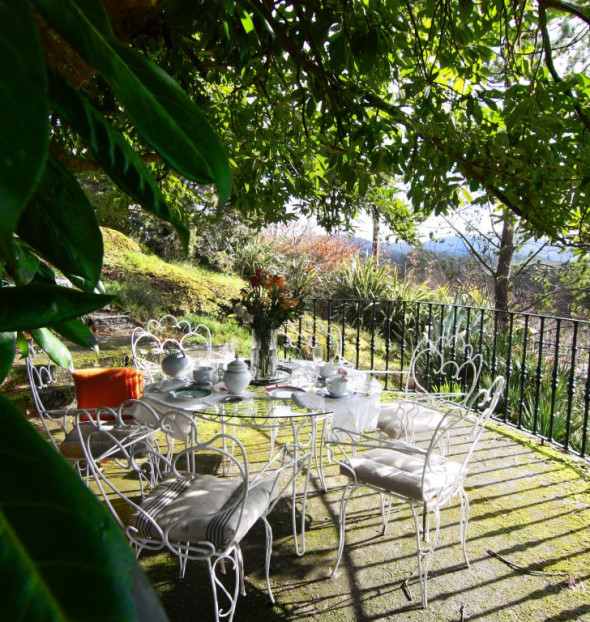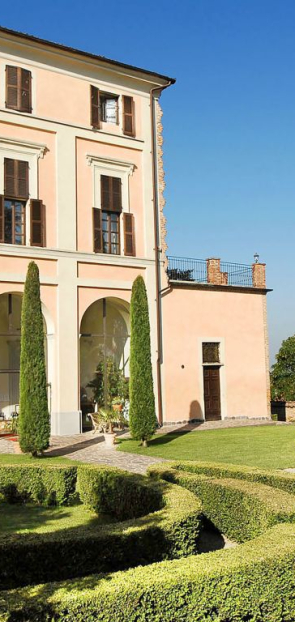 House Full Rental with garden Xesteira

RURAL HOUSES FOR FULL RENT AND APARTMENTS WITH CHARMING GARDENS RUSTICAE
Rusticae, the leading Boutique Hotel Selection Club in Spain, recommends the best rural houses for full rent and apartments with garden.

A garden is more than just a garden. It is a magical place where every night an organized team of fairies and nymphs take control of ponds, trails and flower beds along with greenhouses, gazebos and sheds. The first rays of light announce withdrawal, leading to the opening of doors for human unbelievers who believe they possess earthly virtues with which to tame untamed nature. Let's be condescending, the fairies say, and let them enjoy the French, vertical, English, romantic, classical, Arabic or Japanese garden. For this Rusticae proposes to look for a good tribune from where to be part of this exciting scenery, in some of its wonderful rural houses and apartments with garden.

Speaking of gardens, we will not be the ones to get into one that we were not called to, and we will leave the teachers of the word to open the doors for us to such a gentle word that evokes so many good things. Machado wrote in his poem Jardín: "Far from your garden, the afternoon burns golden incenses in glittering flames, behind the forest of copper and ash. There are dahlias in your garden. Ill be your garden! ... Today it seems to me the work of a hairdresser, with that poor dwarf palmerilla, and that box of cut out myrtle trees ..., And the orange tree in its barrel ... The water of the stone fountain does not stop laughing on the white shell. "

The great Alberti, in the poem Elegía wrote: "The moisture insects, the ladybugs of San Antón, the earthworm also wandered and the snail skated. Childhood of mine in the garden; Gardening queen! the chickpea stuck its nose out and the birdseed in the cage was dying. Childhood of mine in the garden: the plant of sighs was dissolved by the air. "

The immeasurable Octavio Paz succumbed to the beauty of the term in his poem Jardín dedicated to Juan Gil Albert: "Drifting clouds, sleepwalking continents, countries without substance or weight, geographies drawn by the sun and erased by the wind. Four adobe walls. Bougainvillea: in its peaceful flames my eyes bathe. The wind passes between praises of foliage and grass on your knees. The heliotrope with purple steps crosses wrapped in its aroma. There is a prophet: the ash and a brooding: the pine. The garden is small, the sky is immense. Surviving greenery in my rubble: in my eyes you look at yourself and you touch yourself, you know yourself in me and you think of me, you endure me and you fade away from me.

The penultimate poem that we will read in any of the rural houses and / or apartments with a Rusticae garden is that of Marilina Rébora. lemon Tree; the scissor tail showed a swallow and the sparrow revving, from pious messenger. Beneath the trees was the fine grass lovingly combed, daily by the gardener; the federal star bled at every corner and, as if it were unique, in his little leg, the uterus. This is how the garden of my games passed, once a paradise of dreams, a land of fantasy so that nostalgia longs for it so much now. Although life kills, little by little, perhaps, it is true and we want to return to the simple joy of a garden, some flowers, an orchard or some garden. "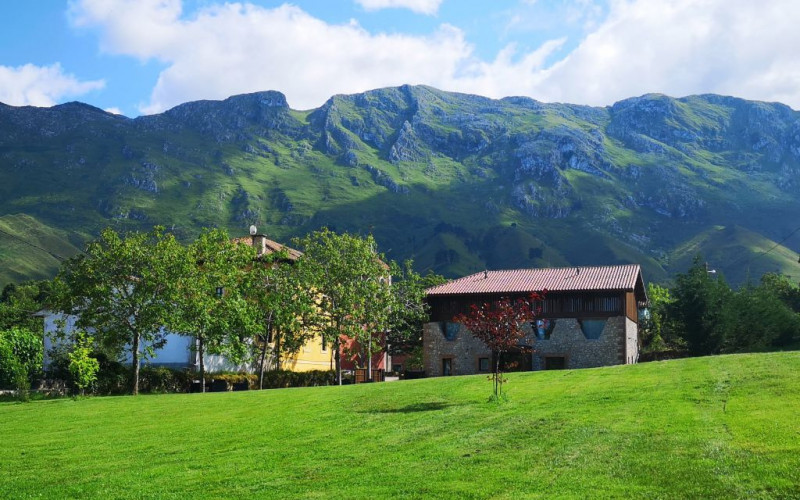 APARTMENTS FOR FULL RENTAL WITH GARDEN LA SANTILAR
The Apartments for Full Rent with Garden La Santilar are built in a block-barn from the 19th century converted into rural apartments in the Indian ethnographic complex of La Pereda, 3 km from Llanes and Toró beach.
Apartments for Full Rent with Garden La Santilar is a family project in which it has opted to reconvert this old property giving it a new life. In these apartments there is no lack of detail. They also have a farm of more than 1 hectare on the slopes of the Sierra del Cuera, perfect to enjoy the generous nature of Asturias.
Apartments for Full Rental with Garden La Santilar is made up of 4 independent apartments with a capacity of 3 to 5 people. The lower ones have direct access to the garden and the upper ones terrace and gallery and are equipped with everything you need for a great getaway: full kitchen, pellet fireplace, wifi, smart TV, USB chargers ...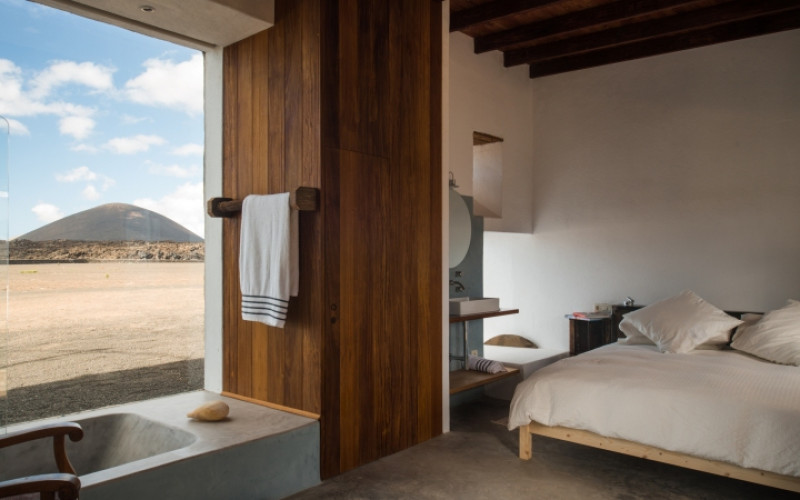 APARTMENTS FOR FULL RENTAL WITH GARDEN B&B BUENAVISTA LANZAROTE COUNTRY
Apartments for Full Rent with Garden B&B Buenavista Lanzarote Country In the warehouse of an old wine estate in the south of Lanzarote, Gonzalo and Mayca have projected a rural house committed to the environment and the island's volcanic ecosystem , which is called Apartments for Rent with Garden B&B Buenavista Lanzarote Country
Located in La Asomada, in the municipality of Tías, this 10-hectare ecological farm ( B&B Buenavista Lanzarote Country Ecofinca Apartments ) recycles water, uses solar energy, led lighting and closed stoves. Being in La Geria, the quintessential volcanic wine region of Lanzarote, the main activity of the rural house could not be other than the vineyard, specifically the Malvasía variety, which follows traditional cultivation, where the vines are practically buried in the volcanic sand, and circular stone walls protect them from the wind.
Apartments for Full Rent with Garden B&B Buenavista Lanzarote Country is an exclusive and intimate accommodation with a modern and minimalist decoration.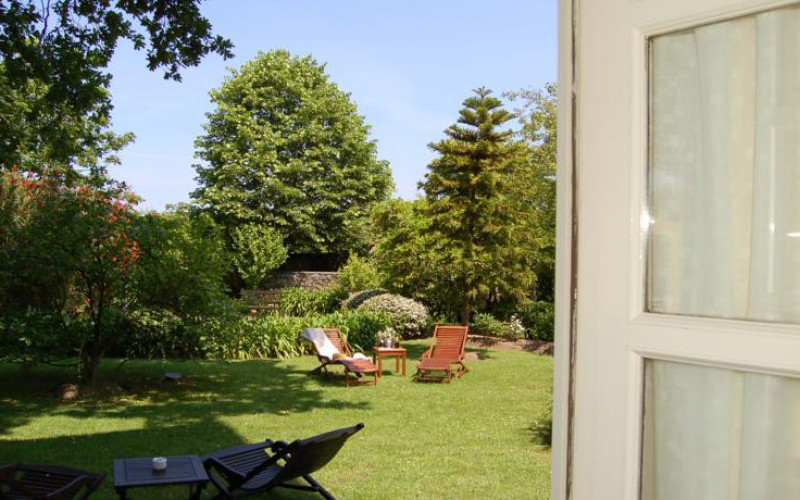 APARTMENTS FOR FULL RENTAL WITH GARDEN CASONA DE LA PACA
Full Rental Apartments with Garden Casona de la Paca, are located next to the Hotel Rusticae Casona de la Paca in El Pito (Cudillero). This group of Full Rental Apartments with Garden made with care, have just been completely renovated and are composed of studios for a couple or a couple with a child, and apartments with a separate bedroom, ideal for families, or for couples who prefer enjoy more space.
Apartments for Full Rent with Garden Casona de la Paca have a modern decoration and everything necessary to achieve a comfortable stay and also have direct access to the garden giving more independence to families traveling with children.
Apartments for Full Rent with Garden Casona de la Paca also have common areas: living room with fireplace and library, reading room, exclusive bar for guests, and the possibility of having breakfast at the daily buffet of Hotel Casona de la Paca, with totally homemade products made every morning.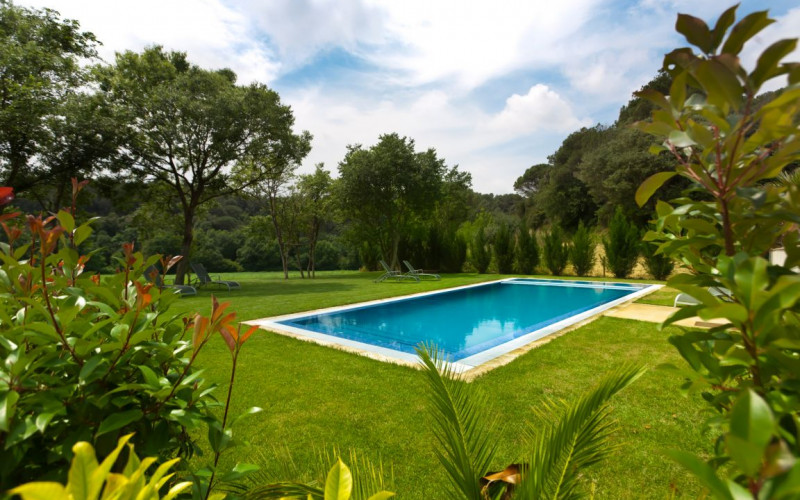 FULL RENTAL APARTMENTS WITH GARDEN CAN CLOTAS
The Full Rental Apartments with garden Can Clotas is an old rural house dating from the fourteenth century located in the heart of Alt Emporda, near the town of Cistella, in the province of Girona.

This old Can Clotas pagés house has been carefully restored for rural tourism. Located in an environment of impressive natural value, between the sea and the mountains, it has 70 hectares of crops and forests, 1,000 m2 of gardens and 1,500 m2 of restored buildings, preserving even the smallest detail.

In the decoration of the Full Rental Apartments near Barcelona Can Clotas the original architectural elements of the house are perfectly combined with a decoration of soft lines. In addition, its vast spaces make it always an opportunity to stay in Can Clotas : as a couple, in one of the rooms of the Masia, as a family, in one of its apartments, and even with the company, since it offers the possibility of renting the complete farmhouse and has adequate rooms to hold any meeting.