Full Rental Apartments with pool
Found 36 accommodations
Rusticae, the leading Boutique Hotel Selection Club in Spain, recommends the best rural houses for full rent and apartments with swimming pools.
What kind of accommodation are you looking for?
ENJOY AT
UNIQUE PROPERTIES
SELECTED BY
RUSTICAE
BOUTIQUE HOTELS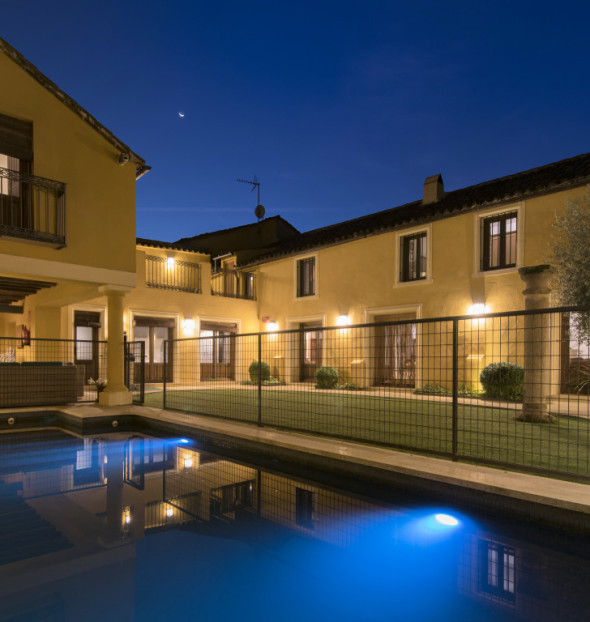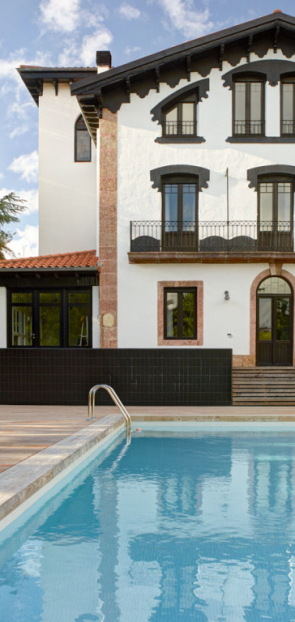 Rural house for full rent Villa Cornelius
FULL RENTAL APARTMENTS WITH POOL RUSTICAE
Casas Rurales con Piscina
Are you thinking of
booking a full rental house and apartment with pool
?
There are infinity pools, freshwater or saltwater, pools with sea views or with mountain views. Island pools, pond pools, natural, classic, modern, heated ... Pools for children to play and pools to enjoy in solitude, without anyone bothering, without the water moving. To dive into them or to play dead. There are the swimming pools or simply the pools to remove the heat with a simple dip. Do we tell you a secret? All of these pools are in Rusticae. Here you can find a wide range of
full rental cottages and apartments with pools
. And it is that Rusticae selects the best accommodations for you to enjoy your vacation or simply a well-deserved weekend getaway.
There is a lot of literature around swimming pools, strange as it may seem, that's why we offer you an essential reading for when you book any of these
Rusticae full-rental cottages and apartments with pools
.
This is John Cheever's short story, The Swimmer, one of the best stories in American literature, which was adapted for film in a movie starring Burt Lancaster.
Here we leave you an excerpt of the text so you can start diving into this masterpiece:
"It was one of those mid-summer Sundays when everyone sits down and comments:
–I drank too much last night.
Perhaps one heard the phrase murmured by the parishioners who leave the church, or heard it from the lips of the priest himself, who is debating with his chasuble in the vestiarium, or on the golf and tennis courts, or in the nature reserve where the head of the Audubon group suffers the terrible malaise the next day.
"I drank too much," said Donald Westerhazy.
"We all drank too much," said Lucinda Merrill.
"Surely it was the wine," said Helen Westerhazy. I drank too much claret.
This was happening at the edge of the Westerhazy pool. The pool, fed by an artesian well that had high iron content, showed a light green hue. The weather was excellent. To the west a massif of clusters was drawn, from a distance so similar to a city - seen from the bow of an approaching ship - that it could even have been given a name. Lisbon. Hackensack. The sun was hot. Neddy Merrill was sitting at the edge of the greenish water, one hand submerged, the other holding a glass of gin. He was a slender man - he seemed to have the special slenderness of youth - and, although he was not young by any means, that morning he had slipped down his rail and had slapped Aphrodite's bronze butt, which was on the Lobby table, as he headed toward the smell of coffee in his dining room. It could have been compared to a summer day, and while he had no tennis racket or sailor's bag, it gave him a distinct impression of youth, sport, and good weather. He had been swimming, and now he was breathing stertorously, deeply, as if he could absorb with his lungs the components of that moment, the heat of the sun, the intensity of his own pleasure. Everything seemed to flow into his chest. Their own home stood in Bullet Park, some eight miles to the south, where their four beautiful daughters had surely already had lunch and perhaps now played tennis. Then it occurred to him that by heading southwest, he could get to his house by water. His life did not limit him, and the pleasure he derived from this observation could not be explained by his suggestion of escape. He seemed to see, with the eye of a cartographer, that row of pools, that almost underground stream that ran through the county. He had made a discovery, a contribution to modern geography; in tribute to his wife, he would call this watercourse Lucinda. He didn't like heavy jokes and he wasn't dumb, but he was certainly original and had an undefined and modest idea of ​​himself as a legendary figure. It was a beautiful day and it occurred to him that long swimming could widen and exalt his beauty.
Apartamentos con Piscina
He took off the sweater that hung from his shoulders and dove. He had an inexplicable contempt for men who did not jump into the pool. He used a short stroke, breathing with every arm movement or every four strokes and counting in one far corner of the mind the one-two, one-two of the nerve kick. It was not a useful stroke for long distances, but the domestication of swimming had imposed certain customs on this sport, and in the corner of the world to which he belonged, the crawl style was usual. It seemed that being hugged and supported by the light green water was not so much a pleasure as recovering from a natural condition, and he would have wanted to swim without a bathing suit, but in view of his own project that was not possible. He stood on the ledge at the opposite end - he never used the ladder - and started to cross the garden. When Lucinda asked where he was going, he said he was swimming home… "
At any point of the Spanish geography you can stay in the Rusticae rural houses with full rental and apartments with swimming pool. When you know them you will only want time to stop and refresh yourself in any of them.