Full Rental Rural Houses and Apartments near the Beach
Found 24 accommodations
Full Rental Rural Houses and Apartments near the Beach Rusticae selects the best Full Rental Rural Houses and Apartments near the Beach but only on beaches with unique charm
What kind of accommodation are you looking for?
ENJOY AT
UNIQUE PROPERTIES
SELECTED BY
RUSTICAE
BOUTIQUE HOTELS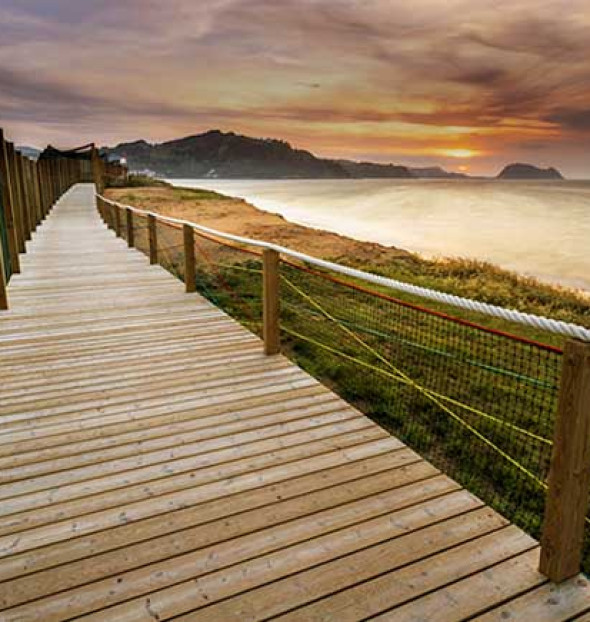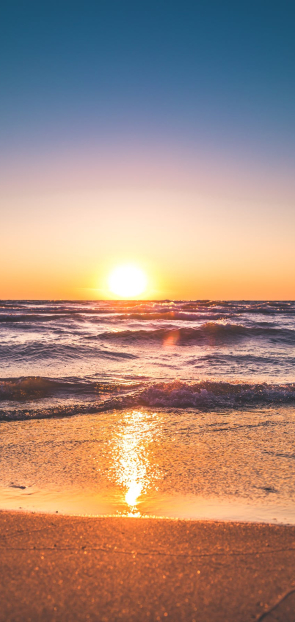 Rural Houses Full Rent Apartments near the Beach

FULL RENTAL RURAL HOUSES AND APARTMENTS NEAR THE BEACH RUSTICAE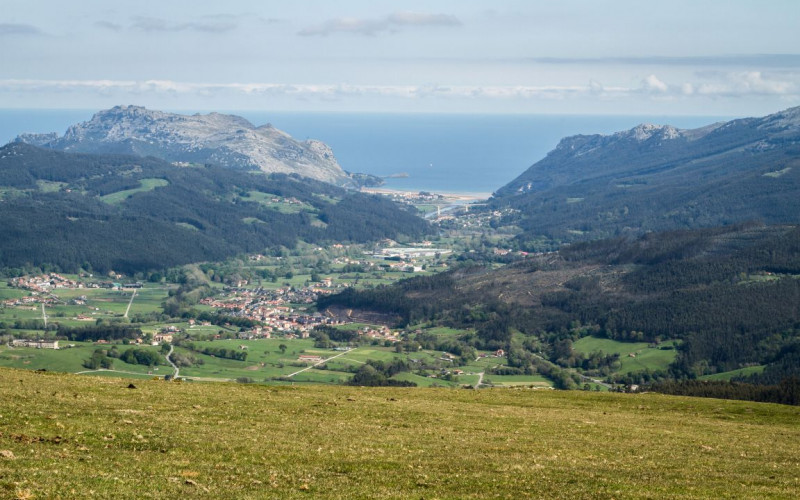 FULL RENTAL APARTMENTS NEAR THE BEACH CASA DE LIZ
Full Rental Apartments near the beach Casa de Liz is a group of apartments located in an old town house, rather a neighborhood, in El Puente, capital and nerve center of the Real Valle de Guriezo, in northeast Cantabria. Full Rental Apartments near the beach Casa de Liz was built in 1738 and takes its name from its former owner, María Liz Nuño. Later it became the property of the grandparents of the current owners and has had different uses over the years, such as stable, saladero or headquarters of the Chorizos Arregui sausage factory.

Full Rental Apartments near the Casa de Liz beach form, together with other buildings, a group that has given the neighborhood its identity and that constitute the oldest architectural complex of this small rural nucleus. Although Full Rental Apartments near Casa de Liz beach has been restored, it preserves the architectural elements typical of the time, such as stone walls, wooden beams and balconies with stone supports of chairs. It is currently divided into 4 apartments, two of them duplexes, with terraces on each floor. The common lounge at street level has a fireplace, library, a sofa area and a games table.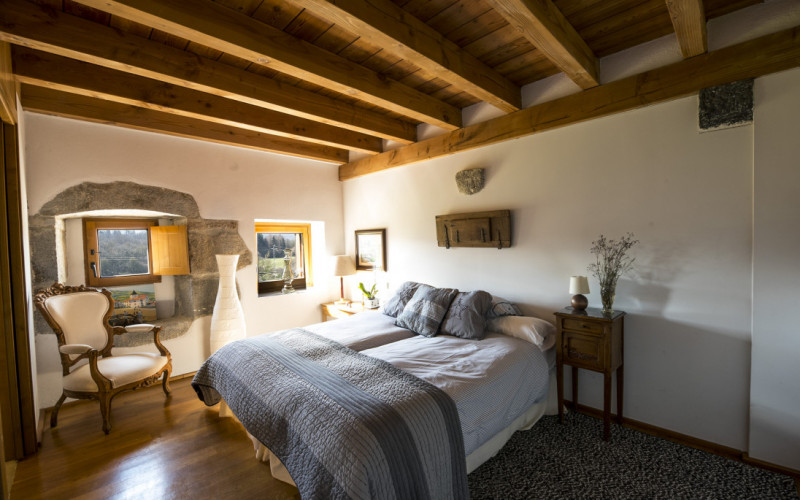 RURAL HOUSE FOR FULL RENT NEAR THE BEACH AZPIKOETXEA
Rural House for Full Rental near the beach Azpikoetxea is a unique Navarre farmhouse for full rent, built in 1700, which has been renovated with the aim of achieving a comfortable space, full of charm and without giving up its personality. It maintains its stone walls and wooden beams and from the living room and bedrooms you can see the green meadows of the Larraun valley.
Rural House for Full Rental near the Azpikoetxea beach is located just 20 minutes from Pamplona and 35 from San Sebastián and is ideal for gathering with family and friends to enjoy nature. In addition, it has the category of "the three sheets", the highest evaluation granted by the Government of Navarra to rural houses. It has 5 double rooms, all with a full bathroom, and one of the rooms is adapted. The kitchen is fully equipped and up to 12 people can sit at your table.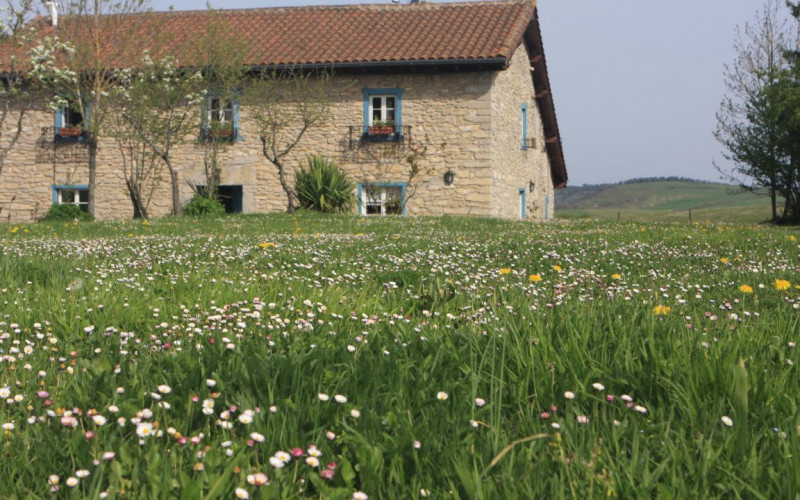 RURAL HOUSE FOR FULL RENT NEAR THE BEACH BASERRI ULLE GORRI
Rural House for Full Rental near the beach Baserri Ulle Gorri , is a rural farmhouse near Untza, which offers full rental rural house service for 10 people, Etxea and an independent rural studio, Sasibil, adapted for two people, near the Salto del Nervión and just 20 minutes from Vitoria and 40 minutes from Bilbao. It is one of the three farmhouses in the small town of Apregindana and has been restored recovering old original materials, giving this typical farmhouse in the Basque Country a unique personality.

The Rural House for Full Rental near the beach made of stone, "Etxea", has a spacious living room with a fireplace, a beautiful kitchen and 5 double rooms with 4 bathrooms distributed on two floors. On the lower floor there is a room with a double bed and an integrated bathroom. On the upper floor, a suite with a double bed, bathroom and a small hall, as well as a room with two single beds with bathroom and two double rooms with two single beds that share a bathroom. The recovered antique furniture, the magnificent doors and the precious floor tiles, which belonged to an old palace in the area, make Ulle Gorri Baserria a very special place to rest and enjoy. Art also has its space in Full Rental Rural House near Baserri Ulle Gorri beach with paintings by contemporary artists, in addition to the impressionist photographs that decorate the walls. Check the possibility of renting the house for less than 10 people and up to 12 people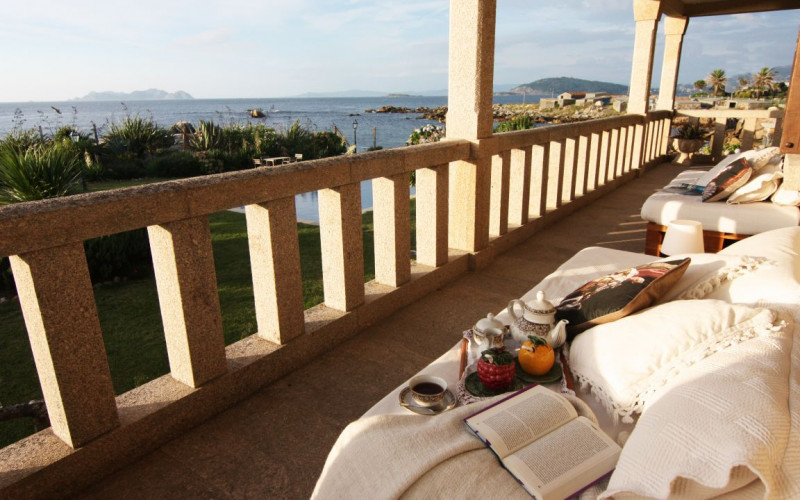 RURAL HOUSE FOR FULL RENT NEAR THE BEACH TE CUENTO 3 BAIONA
Rural House for Full Rental near the beach Te Cuento 3 Baiona is one of the three full rental houses of the project teCuento3…, which aims to offer places to make you feel at home with the comforts of a Boutique accommodation. Casa Baiona is one of the two located in Pontevedra, in this case 2.5 km from the Real Villa de Baiona.
Its proximity to the Atlantic Ocean makes it unique, because with just five steps you can feel the water on your feet.
The Te Cuento 3 Baiona house is organized on three spacious floors, in which six double rooms, four bathrooms, two living rooms with fireplace, dining room, exterior, interior dining room and a fully equipped kitchen are distributed. equipped.
Outside of Rural House for Full Rental near the Te Cuento 3 Baiona beach a farm unfolds with extensive outdoor areas, such as its porches, the garden and the pool with incredible views of the ocean.