Accessible Hotels for people with disabilities getaways!
Accessible Hotels for people with disabilities getaways! Rusticae
Getaways to accessible hotels adapted for disabled people and people with reduced mobility rural charming Rusticae! Are you looking for Getaways to accessible hotels adapted for disabled people and people with reduced mobility that make a difference?
In Rusticae we have selected the best Getaways to accessible hotels adapted for disabled people and people with reduced mobility by quality criteria, both for their location, environment, hotel qualities as well as the exquisite attention to detail and client. Online booking!

Hoteles para discapacitados accesibles adaptados a minusválidos

Farmhouses and Getaways with romantic charm to accessible hotels adapted for disabled people and people with reduced mobility>
Book your adapted hotel room now. Turn your adapted rural hotel stay into a unique experience by staying in the best Wheelchair-adapted hotel carefully selected. Still don't know where to book your hotel room or rural house in accessible hotels adapted for disabled people and people with reduced mobility ? In Rusticae we have selected only the best Getaways and Rural Houses accessible and adapted under quality criteria so that your trip is a perfect rural experience, different from a simple overnight stay. We work to make your trip a unique rural experience that you will want to repeat for sure.
A rural business trip, a family rural vacation in an adapted hotel, a romantic rural weekend with your partner or a bridge with friends is perfect to book your adapted hotel establishment. Our selection only includes the best Charming wheelchair getaways in unique rural areas selected under strict quality criteria that make a difference.
Are you looking for a charming hotel or country house, with a perfect service and unique location? An adapted weekend luxury wine getaway that allows pets? Enter the dates you have planned for your trip and check availability, it is very easy to book your Hotel or rural house for wheelchairs online with Rusticae. Pack your bags because with Rusticae you ensure a unique stay, a different experience in a Rural hotel adapted and accessible for people with reduced mobility and wheelchairs . Reserve now!
Special deals at Adapted Hotels and Accessible Rural Houses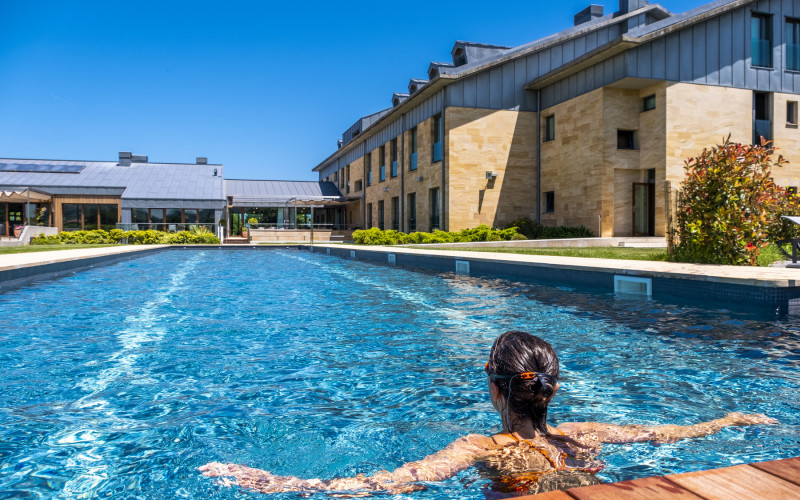 DEALS
(Villaviciosa - España)
Welcome special amenities
1 night in the room preferred by the artists. - GRAN ASTUR Junior Suite.
Breakfast overlooking our garden, an experience for the senses. Pairing Dinner: Gastronomic proposal in our new space THE GREEN Restaurant Lounge that fuses tradition and innovation, with our five-star service: Local - Natural - Authentic - Healthy - Modern
RELAX: Private, night and exclusive access to our Hydrothermal Circuit. More than 500 m2 of water area just for you.
Enjoy this great candlelight experience, contemplate the starry sky of the Natural Paradise inside our outdoor jacuzzi pool at 34 degrees.
Extras available: Champagne and fruit at the Spa € 85. Relaxing local massage in a double cabin € 38 per person.
Hours available for the private Hydrothermal Circuit (reservation required): 22h, 23h, 00h, 01h.
Subject to availability. Not combinable with other offers or discounts.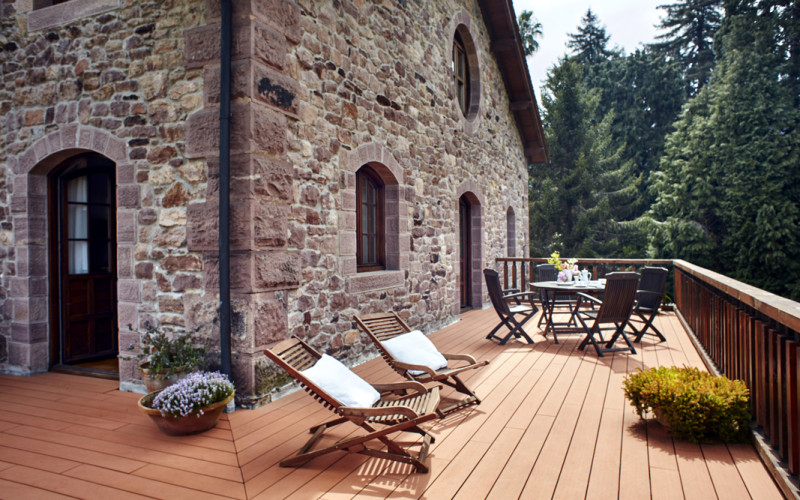 DEALS
(Cabezón de la Sal - España)
Subject to availability
Limited room capacity for this promocion.
Not valid during Easter, Bank Holidays, Holidays, or high season.
Call with one of our agents to make your reservation.
Casa Rural Beautiful Alamedas
2
Alexandra
|
08-27-2023
Casa rural tranquila y acogedora. Aunque hemos estado solo una noche de paso, Maria José, la propietaria, ha puesto todo su cariño en que nuestra estancia sea lo mas agradable para toda la familia.
Casa Rural Nogalia
2
Borja
|
07-02-2023
Casa genial, muy bien reformada y súper limpia. La piscina interior es un puntazo, y el patio es súper grande. La zona de la barbacoa también es un puntazo. Recomendable 100%
Casa Rural Sierra Oeste
2
Carlos
|
07-04-2022
Una casa de ensueño en un entorno idílico. Desconecta y disfruta unos días en plena naturaleza. Atención exquisita por parte de la propiedad! Un 10, recomendable 100%
El Acebo de Casa Muria
0
Juan
|
07-16-2023
Enclave espectacular y perfectamente cuidado. La atención exquisita de Jenny y Jose nos han hecho sentirnos como en nuestra propia casa. Sin ninguna duda volveremos
Hostería de Guara
0
Helena
|
09-10-2023
Atención magnífica. Eva es una anfitriona 10. Hotel correcto con piscina y restaurante. Miy recomendable.
Hotel Artiem Asturias 5*
0
Montserrat
|
07-17-2023
Maravillosa. Una atención exquisita y tanto la habitación como las instalaciones estupendas.
Hotel Artiem Carlos
10
|
01-22-2022
Muy bien situado, buen servicio y restaurante.
Hotel Boutique Molino de Enmedio
0
Noelia
|
05-28-2023
Hotel Cortijo del Marqués
0
Pilar
|
04-04-2023
Hemos estado unos días en el hotel antes de Semana Santa. Ha sido una estancia fantástica. Todo es perfecto en el hotel, desde las habitaciones y el entorno hasta la cena que es magnífica. Volveremos sin duda en cuanto podamos.
Hotel El Jardín de Carrejo
0
Juan
|
06-19-2023
Lugar idílico, no le hacen justicia las fotos.
Hotel Iturregi
0
José
|
05-01-2022
Experiencia visual y sensorial inimaginable. Se mezclan los espacios y las sensaciones convirtiendo la estancia en un interminable tobogán de emoción y bienestar. Los anfitriones atentos y amables, inmejorables
Hotel Restaurant Can Boix de Peramola
0
Àngela
|
02-05-2023
Hemos vuelto a este encantador Hotel para disfrutar del precioso entorno, su buena gastronomia y amabilidad del personal, aunque ha habido un cambio en la dirección de su gestión, conserva el trato familiar pero a la vez profesional de todo el equipo y nos gustó mucho el nuevo comedor para las cenas. ¡Sin duda repetiremos!
La Casa de los Naranjos
0
Miguel
|
09-21-2022
Hemos quedado muy contentos con la estancia en la Casa de Los Naranjos. Un sitio acogedor, lleno de encanto. El encargado , José Antonio, y el resto del personal muy amables y atentos.
Palau de Miravet
0
Emili
|
10-01-2023
Bon servei i un lloc excelent.
Tancat de Codorníu
0
Ascensión
|
07-18-2022
El hotel , desayuno y exteriores está muy bien . El personal servicio muy atentos y profesionales .
Caserío Montehermoso
10
José
|
08-10-2020
Un lugar especial. Un rincón perdido para el descanso, sin perder un detalle en la comodidad. Limpieza y decoración de 10, productos locales de calidad, desayunos km 0 gourmet, amenites naturales y excelentes. Los anfitriones, Joana y Mikel, son un encanto. Naturaleza a un paso, arte románico y Vitoria a tiro de piedra. Jose, Duque y Cristina repetimos siempre que podem
El Hotelito
0
Iratxe
|
08-30-2023
Fuimos a pasar un par de noches..y fue una experiencia maravillosa.. El hotel es precioso ..la habitación muy bonita y la cama comodísima.. El desayuno muy bien..tienen de todo y están pendientes de que no te falte de nada. El último día pudimos cenar..(el primer día lunes era de descanso) Fue un placer en todos los sentidos.. Calidad en los platos..y exquisitos.. El carpaccio de bacalao y el steak tártaro..de sobresaliente..y bien de cantidad.. Y la torrija...explosiva.. Un lujo de cocina...había leído las reseñas..pero me sorprendieron para bien.. Y el trato con Blanca y Rodrigo fue de una atención ..cuidado ..y mimo al cliente..que te hacen sentirte en casa.. Muchas gracias...
Hotel Teatrisso
0
Francisco
|
08-13-2023
Un Hotel de cine .... Como dijo James Dean,,,'' Sueña como si fueras a vivir para siempre, vive como si fueras a morir hoy ''
Casa Rural de Alquiler Completo Finca El Cercado
0
Christiaan
|
08-20-2023
Beautiful but somewhat remote location. We really enjoyed our stay and the space around the house. Perfect spot for several day trips in the area / cities nearby. The watchdogs were lovely and were always around us and keeping us good company. Special thanks to the host which made us feel at home in the house and we enjoyed the evening on the terrace with her.
Villa Magalean Hotel & Spa
0
Maria
|
09-21-2022
Nos encantó el Hotel. Habitaciones amplias y preciosas, todo impoluto. El servicio era de cinco estrellas y el restaurante merece muchísimo la pena. Probamos las mejores anchoas de nuestra vida! Nos quedamos con las ganas de probar el spa… la próxima vez será!! Lo recomendamos, ofrece la calidad esperada por el precio
Casa Rural de Alquiler Completo Baserri Ulle Gorri
0
Mayte
|
05-08-2022
Fantástico fin de semana en un caserío de ensueño regentada por los mejores anfitriones que se desviven porque todo sea perfecto, algo que claramente consiguen. El caserío cuidado al detalle, el paisaje de postal, las excursiones de Iñaki inmejorables y el cariño de Ana espectacular. Qué más se puede pedir!!!. Ha sido nuestra primera visita pero claramente no será la última. Muchas gracias, Ana e Iñaki, por un fin de semana perfecto.
Secrets at Adapted Hotels and Accessible Rural Houses. We offer you an amazing plan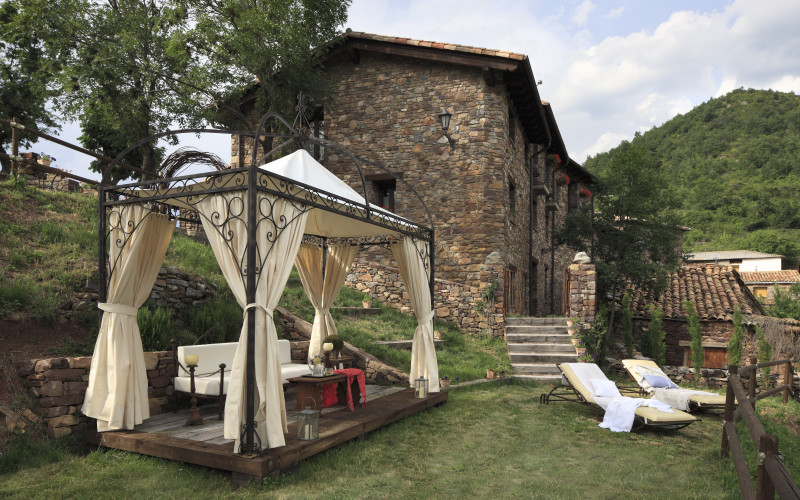 INSPIRATION
Goodlife Plan
To be able to see it we need your Rusticae booking reference number.
Or if you have not booked yet... Book now